Discover more from Athletic Affair
Athletic Affair connects people, brands and collectives around sport. Together, we curate and develop projects to have a better impact on our planet and society.
Monday Break - Issue 43
A weekend well balanced between our love for outdoor activities and the indoor ones to follow all the races of the weekend.
Indoor and Outdoor was the feeling all weekend.
Good weather (maybe too warm in Girona now) allowed us to do road, gravel and running as a team but we had one hidden eye on a screen to catch up with all the sports events where on last weekend. From Hardrock following Aurelien and Courtney and Dylan (when are you back to Girona!?), to Eiger chatting with the Namberger and the middays on the screen for the Tour the France and the Wimbledon finals….what fantastic days we are living as sports fans!
---
A King's Reign,' a podcast focused on LeBron James' remarkable career
---
VanMoof explores sale under court protection because it can't pay bills
The company has entered a so-called 'suspension of payment' proceeding with a court-assigned administrator helping to lead the company out of debt. All options are on the table.
---
'Barefoot' sneakers are extending their grip in the sneaker world. Here's why
Athletes and 'ancestral living' adherents alike suddenly have more options than ever to feel it in their soles.
"Barefoot" sneakers, meant to provide as little support as possible so that a runner can move around the world in the same way as our ancient ancestors did. The barefoot sneaker movement began in earnest nearly two decades ago.
---
Distance Nirvana
Presenting a new series of unique Run As You Are missions designed together with Salomon and Ciele to celebrate the launch of Distance Nirvana, a pair of shoes developed with the calming elements of nature in mind.
It will inspire you to reach the perfect quietude that only running provides, a feeling of freedom while cruising across beautiful landscapes through valleys and over trails, revelling in the middle of nowhere..
---
The Right To Joy
---
Tracksmith and a Discussion on Long-Term Foundational Storytelling.
There are organic opportunities that exist in thinking long-term about how you engage with an audience that hasn't discovered the brand. It's not just the segment you aren't reaching where you gain ground by working in a niche sport like track and field. A brand can go from unknown to discoverable for people engaged in the sport as well.
---
Now every Thursday at La Comuna is Smashed Burger Thursday, and you can enjoy the american vibes for a day. Burger and Fries, meet or veggie, don't care, is yummy in all ways.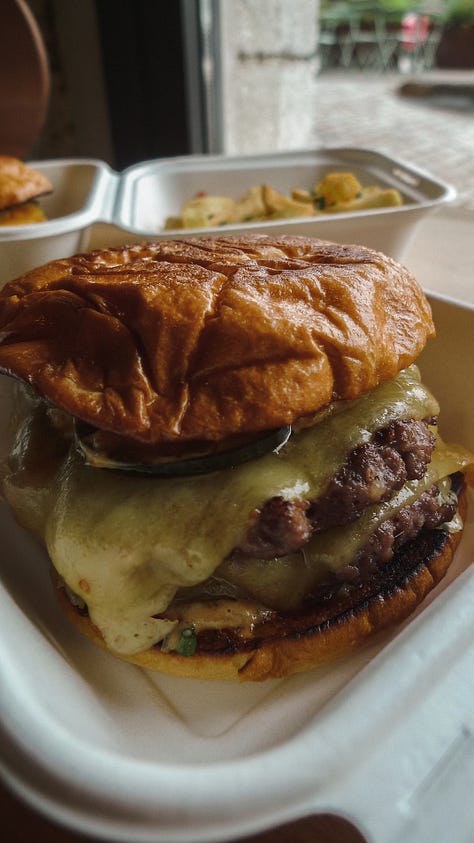 ---
---
Thanks for reading our Monday Break! Subscribe to receive new posts :)