Discover more from Athletic Affair
Athletic Affair connects people, brands and collectives around sport. Together, we curate and develop projects to have a better impact on our planet and society.
Monday Break - Issue 54
Outdoor is our passion and what's better than that? Outdoor x3. That's what we had this weekend at home with SGRAIL. Enjoy our curated content!
MILANO - SANREMO | AN UNEXPECTED JOURNEY
Nathan Haas testing the limits of where the gravel bike can take him versus the Backcountry Finale Ligure MTB crew ;)
All blend with generous portions of gravel, dusty trails, and unpaved roads. The outcome? An unconventional four-day journey from Milano to Sanremo.
---
EUROPEAN DECLARATION on CYCLING
The European Parliament, the Council and the European Commission proclaim the Declaration on Cycling.
This Declaration recognises cycling as one of the most sustainable, accessible and inclusive, low-cost and healthy forms of transport and recreation, and its key importance for European society and the economy. The Declaration should serve as a strategic compass for existing and future policies and initiatives related to cycling.
---
Golden Trail World Series - Final
After the Golden Trail World Series Grand Final, American Sophia Laukli and Switzerland's Rémi Bonnet solidified their places atop this year's GTWS standings with strong efforts in the two-day championship held in the foothills along the Italian Riviera.
---
STEP BY STEP | The North Face
"Step by Step" is an inspiring film that delves into the extraordinary journey of Katie Schide, an exceptional trail runner who captured the world's attention.
After her triumphant victory at the prestigious UTMB in 2022, Katie sets her sights on the Western States Endurance Run in 2023. As she tackles this grueling challenge, the film takes viewers on a captivating exploration of both races while unraveling the essence of who Katie truly is.
---
I Run in the Morning with Nothing But Coffee in My Stomach. Is that Bad?
Portland, Oregon-based endurance nutritionist and elite mountain athlete Alex Hasenohr dives into the world of coffee, the gut, and running performance.
Caffeine and sport is always going together but first things first, for us, a cup of coffee is the first thing we do after waking up, but is it good for us? Discover how does a cup of coffee affects your stomach when it is empty.
---
Tech talk at CASA ATHLETIC by SONOS
Technology is powering the next big evolution in sport, transforming how it is played, organised and consumed. We understand sport as something transversal and we love to be involved with all the industries that surrounds it. Here you have the first edition of the tech talks at Casa Athletic!
A talk where Nikias, Javi, Judit, David, and Jona explained us how they organize and manage one of the craziest months of the year with the launch of all the new Apple products.
---
Girona Hub - Another busy WEEKend in GItown!
Starting last Friday we had all the Pre SGRAIL activities going on, a social trail run, Smashed burgers by La Comuna, a social gravel ride, a great visit to the Frodeno Fun(d) Pump Track and lots of fun.
Yesterday was race day, starting from Cadaqués the participants completed more than 100k, a 1500m swim, a 92k gravel ride, and a 10k trail run.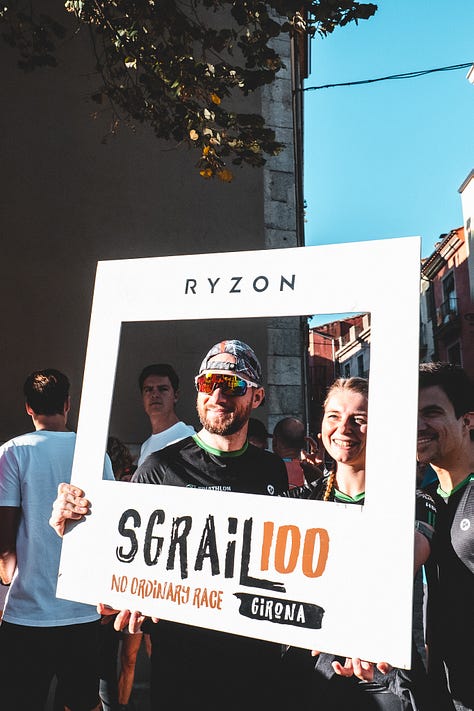 It was again another great weekend in town, with lots of great riders, friends, coffee and burritos. The end of season adventure for some.
Next year we come for more :)
---
Thanks for reading our Monday Break!
Subscribe to receive new posts :)