Discover more from Athletic Affair
Athletic Affair connects people, brands and collectives around sport. Together, we curate and develop projects to have a better impact on our planet and society.
Monday Break - Issue 53
Lots of events, lots of news, we had fun curating the content for you, now is your time to enjoy it.
New Personal Best - Asics
We loved the new campaign from Asics & Mind to redefine what people think of as a 'personal best'. The campaign, 'New Personal Best', wants people to focus on how exercise makes them feel, rather than on running stats, encouraging more people to move for their mental health.
---
Pink, yellow and RED
With the last victory of our friend Sepp Kuss at La Vuelta, SRAM sponsored athletes won every 2023 Grand Tour.
Three colours that mean a lot for every cycling fan.
---
Cynthia Frazier shares tips for Ultras
We had the chance to follow Cynthia during her last performance at Badlands and it was really impressive, now she did a interview to Rouleur with some tips about ultra distance, don't miss it!
---
Lael Wilcox chases fastest around the world cycling record time
Earlier this week, Lael Wilcox shared that she'll soon be going after the women's around the world cycling record (the fastest circumnavigation of the globe by bicycle). She plans to ride a whopping 18,000 miles in just 110 days.
We did interview to Leal when she stayed in Girona, don't miss it.
---
Kona - Ironman's women final
Saturday night time in Girona we went to sleep a bit late, we were in front of our Mac following the Kona's final, what a race! Here a interview to the winner Lucy-Charles and we send a big hug to the Girona crew Laura Siddall and Sara Bellapart for their performance.
If you missed the race here the full coverage.
---
Girona Hub - A running weekend!
Girona is becoming also a place for the running scene and this weekend we had two great events; Cursa Carrer Nou and the first Gina Backyard Ultra by Klassmark
Cursa Carrer Nou is a great popular race in Girona, unites fast runners and popular ones, a Sunday workout for everyone that wants to do 10K at their best pace. Shame to be a 2x laps loop, maybe someone on the council should level up and do the permits for a proper 10k race.
Gina Backyard instead it was the first edition and what a show! Runners went to Geieg Palau to enjoy this ultra format of running: Runners must consecutively cover the distance of 6,706 km in less than an hour, and every hour starts a new lap until last runner stands. We have been there having fun with the community.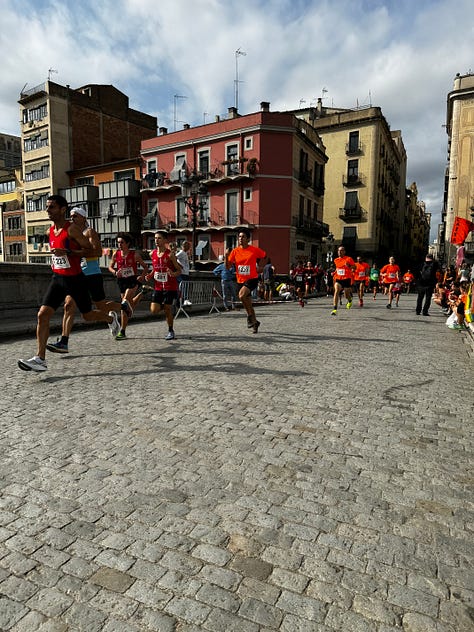 ---
Thanks for reading our Monday Break!
Subscribe to receive new posts :)