Discover more from Athletic Affair
Athletic Affair connects people, brands and collectives around sport. Together, we curate and develop projects to have a better impact on our planet and society.
Monday Break - Issue 46
We are back for an exciting weekend between UTMB & Badlands, are you ready?
Welcome back!
After few weeks without Monday Break we are really excited for this new season with plenty of interesting news and projects to share with you.
We haven't stopped during the summer time, we have been traveling and working on new projects that will be live during September and October, be ready if it looks like a busy period for us it will be for you too ;)
Team is splitting this week. For the first time since we started the project we will not be together at UTMB, but don't worry here you have the full agenda for the team to join us at UTMB with Jordi and Badlands with Xavi & Maria.
---
UTMB Week!
Our third UTMB on a roll and you will find us following the OCC, CCC and UTMB so stay tuned to our socials for more info.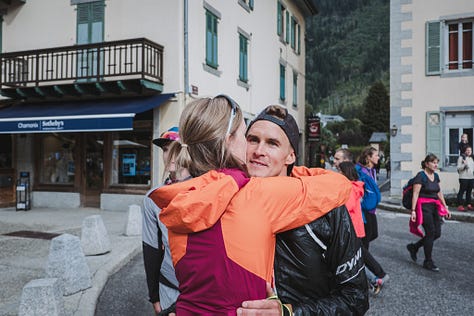 Also we will join some activities around Chamonix during this week, so here what you can't miss and if you are on the area drop us a message, Jordi will be super happy to catchup with you!
---
UTMB our curated agenda
---
Badlands race week!
The other half of the team will be at Badlands. If you follow us for sure you have been aware of our pre-badlands podcast content with Velocio and now is time to head to Granada for the live race.
We will join the warm up race socials from Thursday with a Coffee Corner by Fulcrum & La Comuna and a live podcast on Friday by Velocio.
Also don't miss the Velocio and Athletic Affair socials, from race day we will produce a live journal with the Unknown of Badlands to discover more about this amazing gravel race.
Also there we will be with our friends of Buff, 3T, komoot, Cafè de Finca and Megamo and with a lot of friend riders we are so excited to see again before the race.
---
Be Nice: Spirit of Kona
As last year but a bit different, if you can't go to Nice to follow the ironman, come to Girona and join our Spirit of Kona party.
We will organize a live streaming of the race at La Comuna while you can join some other activities during the race is on.
The cafe will open at 6:45h as the race is starting 6:50h.
Livestreaming from that moment untill the end of the race.
- RIDE at 8h, coffee by Ryzon. (2:30h route)
Livestreaming of the race.
- RUN at 12h, post run beers by Thrive. (45min - 1h run)
After that we will enjoy the race from La Comuna.
Stay tunned to know what else will happen :)
---
Thanks for reading our Monday Break! Subscribe to receive new posts :)