Discover more from Athletic Affair
Athletic Affair connects people, brands and collectives around sport. Together, we curate and develop projects to have a better impact on our planet and society.
Monday Break - Issue 45 ☀️ 🏖️ ⛰️
Summer is here!!! And our Monday Break inspiration newsletter will pause during August, but we created for you a special one to have good inspiration things to read, listened and watch.
BUT FIRST…
This weekend we have been at le Tourmalet for the Tour de Femmes #WATCHTHEFEMMES, following and cheering the Girona girls. Huge congrats to Kasia for being the QOM aka the best climber and for her third position overall.
Stay tunned to know what they bet was 😉.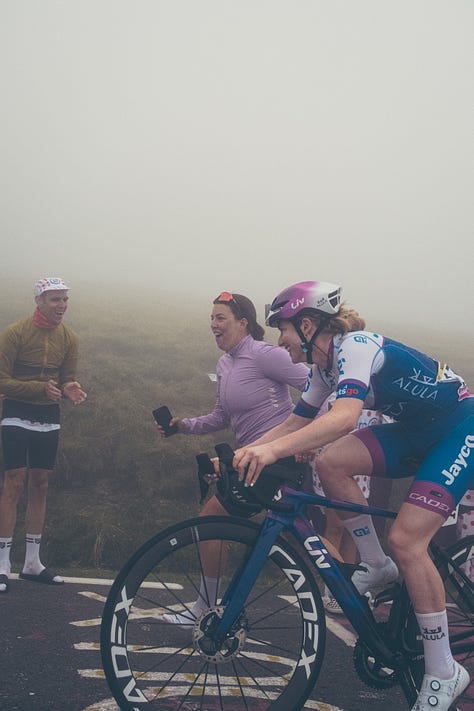 ---
Velocio x Badlands Podcast
This year we will be at Badlands with Velocio, with whom we recently launched the Velocio x Badlands Podcast, a series of different podcast episodes about the race, hosted by Maya and Olivia, they will be speaking with athletes, media, and organizers to discover what makes Badlands so special.
---
Team Summer Recommendations
We present you our special recommendations for this summer from each member of our team, enjoy them and see you in September.
- Xavi's recommendations
Podcast 🎙️
Difficult to pick one, I love radio and I love podcasts. I am subscribed to a lot of them and I love the format to be informed and inspired. I like to listen also content from not our industry to keep fresh and have an eye on another industry so my recommendation for the summer is…
Cities are facing tremendous challenges and changing in the future and all love the approach to this amazing podcast to it.
Book 📖
A classic one but I believe brands will play a crucial role in the new world, brands should be authentic and have a voice in the problems of our planet and society, so for me, brands with a strong culture will win the game so Patagonia's founder one is a pick for summer reads.
Magazine
🗞️
I am a huge fan of the Monocle editorial, since I was living and London I have been consuming their magazines and radio. Magazine to have awareness of the things of the world around politics, retail, design and food, so a must on my nightstand.
Documentary 🎞️
We recently watched Break Point from Netflix, a good one if you like tennis and want to know more about the inside, in special the headspace game before and on matches, a different approach but a good one to go deeper into one of my fav sports.
Newsletter 📩
Cycling is key for what is facing cities and our mobility so I love to read the news from Micromobility to know more about the change in society and industry.
Route 🚴🏼
Summertime is a perfect moment for this road loop to Olot and back. Selected backroads with shadows to ride fresher on the warm days with good fountains on all routes. A hilly loop to enjoy the different areas of Girona.
---
- Jordi's recommendations
Podcast 🎙️
A podcast where you can listen conversations with key members of the trail community from around the world. From professional athletes to members of the Vert.run community. A good choice to continue discovering and learning about this sport. Episodes around an hour of length that are perfect to listen during your summer trainings.
Book 📖
For those of you who are going to spend your summer vacations away from the high mountains, I recommend reading a book that explains several of Bonatti's climbing memories. Very much of the book is related to the 1954 climb of the K2 peak of the Himalayas where Bonatti was accused of abandoning the rest of the crew to climb K2 alone being the first to reach the summit.
Documentary 🎞️
I often like to watch documentaries about sports that I don't know about in environments that I have never been. This one talks about how the freediver Johanna Nordblad prepares to break the world record for the distance traveled under the ice in apnea. An inspiring report where you can see the great determination of extreme athletes to achieve their goals. 
Newsletter 📩
Everything related to running, equipment, races, events and community is my passion. Here you have a good newsletter that talks about all of these and more. "A mostly digital place dedicated to all stuff contemporary running-related // by @chrisflanell"
Route 🏃🏻‍♂️
I choose a route for all levels and perfect for the summer months. You're gonna run most of the track around rivers and waterfalls, with a super fresh environment and plenty of spots to take an amazing bath. I hope you enjoy it!
---
- Maria's recommendations
Podcast 🎙️
I'm not a huge fan of podcasts because when I'm at home I am more a music listener, but I like to some when I'm cooking and actually Two be honest podcast is about two persons being honest at each other and expressing their real feelings without any impediment. It is a human and real podcast that you should listen someday.  
Magazine
🗞️
Dolores Magazine is a skateboarding magazine whose mission is to encourage more women and non-traditional people to discover skateboarding, no matter who you are, your origin or your language. 
It is a print expression of Asiplanchaba, they work on supporting and growing the scene and industry through the print magazine, events, jams, and workshops.
Documentary 🎞️
Not a documentary but I'm a huge fan of the RACE TV Series of the EF Pro Cycling at the Tour de Femmes & The Men's Tour de France day by day vlog. Great to see the good vibes of the team and how it works from the inside at a grand tour. 
Newsletter 📩
Women's Cycling Weekly, Amy Lauren Jones created this fun newsletter years ago and for the Tour de femmes she added a Podcast to it. If you want to know a different point of view of this year's tour, you have to go through it. Enjoy!
Route 🚴🏼‍♀️
Banyoles gravel loop, great for a warm day as there is a lot of shade, and you can stop at Banys Vells and jump and refresh in the lake. 
---
Thanks for reading our Monday Break! Subscribe to receive new posts :)