Discover more from Athletic Affair
Athletic Affair connects people, brands and collectives around sport. Together, we curate and develop projects to have a better impact on our planet and society.
Monday Break - Issue 37
From a Gravel weekend following the Unbound and Ranxo to other interesting news you can't miss.
Great Gravel weekend
Unbound on Saturday and Ranxo on Sunday got our attention.
It was a great weekend for the gravel lovers. Unbound got us pending Friday & Saturday, we were following the XL and cheering for our Girona members to get out the best results. Ulrich did an amazing race and hit the 3rd place.
Saturday it was the turn of the 200mi, exciting race for men and women, a lot of mud and despite the lack of good streaming and info we had been pending until the finish line; an interesting finish with a sprint end for the men and a solo ride for Carolin, what an amazing season also for her after another solo winning at Traka.
Sunday it was the turn for Ranxo gravel, the UCI Gravel race not far from our home, Girona. Big names like Alejandro Valverde and Ivan Cortina from the Movistar team were on the startlist.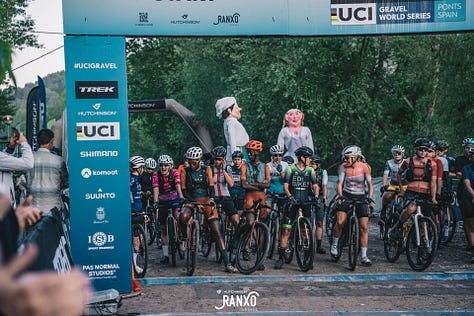 ---
Sunset ride
This Wed join us for a fun and easy ride.
Another sunset affair ride is here! we have a date on Wed at 18:30h to a social gravel ride to have fun, take pictures and drink beers at the end powered by Komoot…and maybe another surprise for you ;)
---
Game On: The Unstoppable Rise of Women's Sport
---
Jennifer Russo Shatters Courtney Dauwalter's Backyard Ultra World Record
Last Tuesday, American ultra-runner Jennifer Russo broke the world record for the women's backyard ultra at the Capital Backyard Ultra in Lorton, Virginia.
A mom of three, the 57-year-old from New Richmond, Ohio, completed the multi-day race, which began on Saturday and finished with 74 laps (also called "yards") of the course, totaling a whopping 311 miles.
---
Komoot launches new Discover features: finding personalized Tours is easier than ever.
A new map-based interface with best-in-class interactivity.
Thanks to the new map-based interface, komoot users can now receive Tour recommendations in a specific area and compare them on a map that offers detailed route information at a glance.
---