Discover more from Athletic Affair
Athletic Affair connects people, brands and collectives around sport. Together, we curate and develop projects to have a better impact on our planet and society.
Monday Break - Issue 32
Monday without a break and a newsletter where gravel and TRAKA are the main topics. Girona will be the spotlight of the international gravel scene and the week is coming with many activities.
We love Girona!!
An amazing week ahead with Girona as the capital of gravel. Riders from around the world are arriving to our city to enjoy The Traka and not just the race is on the agenda, there will be activities for the whole week and the community will have a lot of things to do, being able to connect and share unforgettable moments.
Don't miss the official activities, we will be there handling all The Traka communication and don't forget to visit our Casa Athletic, we had planned a lot of things for you and we will have a coffee corner by Cafè de Finca.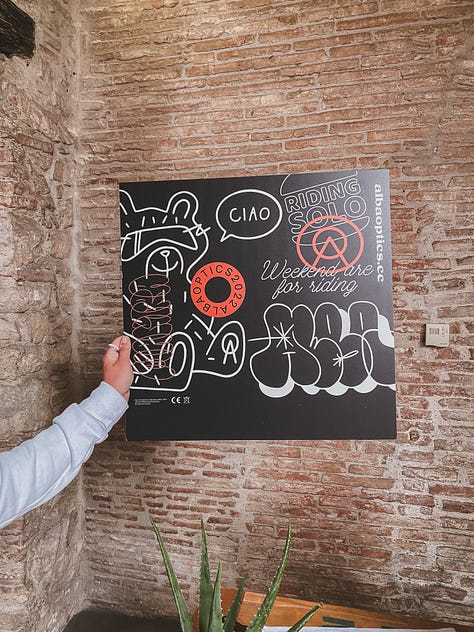 Welcome to our city, have fun in Girona and don't miss the new Traka menú at La Comuna….yes, we tasted it and is awesome!!!!
---
Velocio Pop Up at Casa Athletic
26th, 27th, 28th April at Casa Athletic
We are glad to host a Velocio Pop Up at Casa Athletic. From Wednesday to Friday of The Traka week come to our Casa to discover the new collection and don't miss the activities we will have there.
Location: Força, 20 - Girona
---
Hannes Namberger - Talk by Fulcrum
25th April - 19h
We are really excited to have Hannes Namberger, one of the best trail runners in the world, in Girona for the whole week and we partnered up with Fulcrum to do a talk about how cycling is a good training for trail runners. 
Come to Casa Athletic for a special talk by Fulcrum with Hannes Namberger moderated by Christian Meier. Don't miss it.
---
La Puntual x Velocio
Support your locals
If you are in Girona this week catch the bread truck from La Puntual x Velocio and share it on your socials. Super happy to be part of this collaboration.
Girona cycling culture goes further than just the stores related to this sport, is part of our DNA and community. So with this inclusive point of view, we managed the collaboration with these two brands we love! La Puntual is the best bakery in town, really appreciated from locals to expats so no better touching point to do this collaboration with Velocio. Don't miss the bread there is a must if you are in town.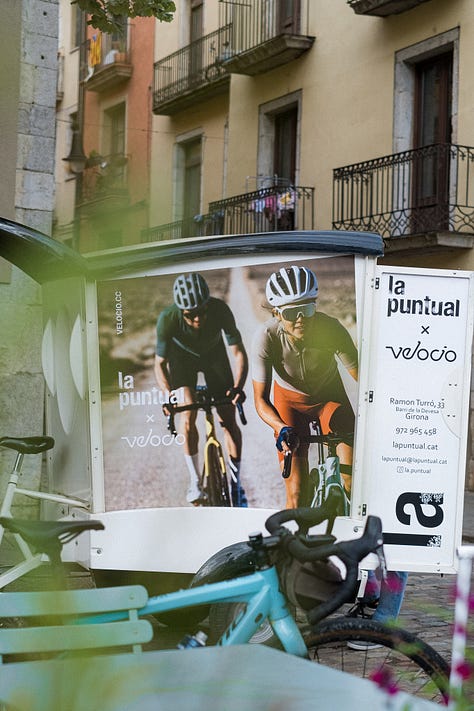 ---
The Traka agenda
Girona gravel capital
A lot of activities are planned for this week ahead before the races for Traka start on Saturday. Here is a recap of what we believe are the most interesting ones to go. Keep an eye on our socials, we will keep you posted!!
Streaming - first time!
On Saturday for first time The Traka 360 will have a live streaming for the last 100kms, so check the socials of Traka to have the link to watch it!
---
Dirt, Sweat and fever.
Inside our Velocio Pop Up this Thursday we will host the screening of Dirt, Sweat and Fever, the film from Ulrich conquering the 1.000 hills around Rwanda.
Last spots available, don't miss it!!
---
The W Rides x Gravel Earth Series
The first women's ride from W Camps in collaboration with Gravel Earth Series, into this year they want to ride with more women and get them involved on amazing events like The Traka. They are not there for a competition they are here to have fun and enjoy a short spin and good coffee pre-event. They will do bits of the course to find and feel confidence that everybody can do this, is about the joy of cycling together :)
Join the ride on Thursday 27th, start at 10am (meeting by 9.30am) free coffee :)
---
Nordic Gravel Series x Velocio
Social Ride on Friday ending at our Casa Athletic
Warm-up Ride for The Traka hosted by Nordic Gravel Series and Velocio ambassador Maya Noriega. 40km easygoing social ride with a drink&food afterwards at our Casa, another thing to not miss ;)
---
Last updates - Agenda TRAKA
Here the things we didn't add to the agenda but are cool to know :P
A Privateer's Path
Join us for a Q&A with MAAP privateers Ivar Slik (2022 Unbound 200 Winner) and Freddy Ovett at Velodrom, Girona ahead of the Traka.
---
If you like our newsletter and you are new here, don't miss it.