Discover more from Athletic Affair
Athletic Affair connects people, brands and collectives around sport. Together, we curate and develop projects to have a better impact on our planet and society.
Monday Break - Issue 29
Sunny Monday from Girona with the last news and activities we want to share with you. Ready to storm the castle? don't miss anything from our curated news and check the activities agenda.
Affairs weekend!
From a Sunday Gravel ride to a full Casa Athletic for the Tour the Flanders with some good moments at the Girona MTB SingleTrack. In images the Athletic Affair's team weekend.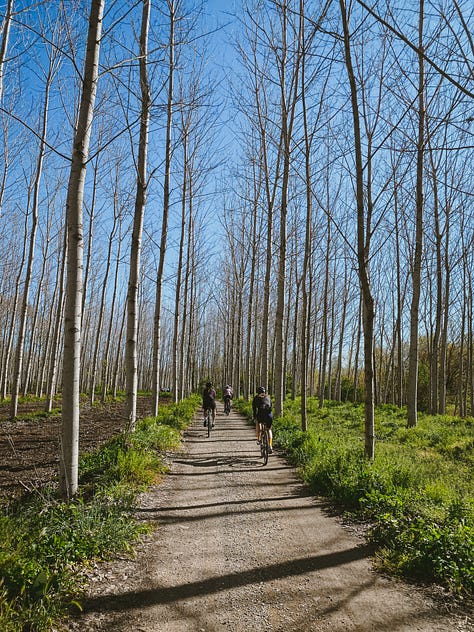 ---
Storm The Castle - Norda in Girona
Norda is in town with our friends of Overland to launch their new shoe and Friday we all have a date!
3.59km 285m. This is an unsanctioned race up our favorite castle. Starting from the shop, we will run all together to the bottom of the climb where the race will start. First male and female to the top win. After the last runner arrives, we'll head down to Overland for post race prize giving, wine, pizza and music.
---
Nike Launched Its First-Ever Menstruation Product, and You'll See It at the World Cup.
The sportswear giant just announced its first-ever menstrual innovation, a lining material called Leak Protection: Period that will first appear in its Nike One Short. It's an ultrathin, absorbent liner that helps protect against period leaks, made of a "two-layer laminate gusset" that absorbs, wicks, and holds blood "with a membrane that acts as an anti-leakage barrier," per a release from the brand.
---
4 Tech Trends from Cycling's Most Influential Trade Show
Read the 4 trends from the editors from Pinkbike, CyclingTips, and Bicycle Retailer attended the Taipei Cycle Show to see the future of bike technology. Products in the bike industry take a long time and a lot of coordination to come to market, this show has become an opportunity to get the inside line on what's coming down the pipe.
---
Scotland: Ocean Nation
---
Cracked Earth Film Screening - Shift Cycling Culture & komoot
13th April - 19:30
Come to Casa Athletic to discover a new adventure, share some beers by komoot with outdoor lovers and listen to inspiring people.
---
Don't miss any Monday Break and any news from Athletic Affair