Discover more from Athletic Affair
Athletic Affair connects people, brands and collectives around sport. Together, we curate and develop projects to have a better impact on our planet and society.
Monday Break - Issue 28
A new Monday and a new break to inspire you bringing the news from the industry we curated for you. From our last collaboration with Canyon and On, to how technology could help you cycling or running.
Canyon X On Running
During the Marathon of Barcelona, we ran an activity for a Canyon and On Running Collaboration to explore the city sustainably and create the first animation point with the e-bikes and the new CloudSurfer.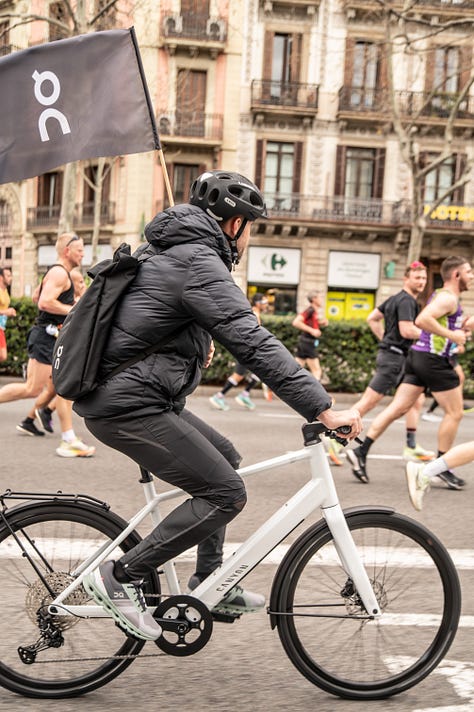 We love to see companies working together on activities for a better planet.
---
The present and future of cycling computers 
Will your bike computer soon be sensing when your performance drops off and telling you when to eat and drink?
We asked three of the biggest players what's in store for cycling computer tech - how are Garmin, Wahoo and Hammerhead pioneering GPS tech?
---
How computers are changing your run
The very human story of how computers are changing your run
The all-new Cloudsurfer is the first On shoe developed using computer simulation technology. We get special access to the On Lab to learn the story behind the shoe.
---
Will you go with me? - Why Brands Need to Partner Now
Patagonia leads the top 5 love brands in the latest Consumer Insights Report. Is this due to their distinctive repair concept? At the very least, additional benefits such as repair services, subscriptions, and unique experiences are absolutely in vogue among consumers.
The brand-new Consumer Insights Report for the first quarter of 2023 reveals this and much more. The trend report shows: Consumers want more than just a product, they want an experience and the brand as a companion.
---
The Impact of Travel on Glucose
Travel can be very disruptive to the human body, including glucose homeostasis. In this article we go through why and how you can limit this.
---
Don't miss any Monday Break and any news from Athletic Affair